Church Cookbook Beef Oriental
loof751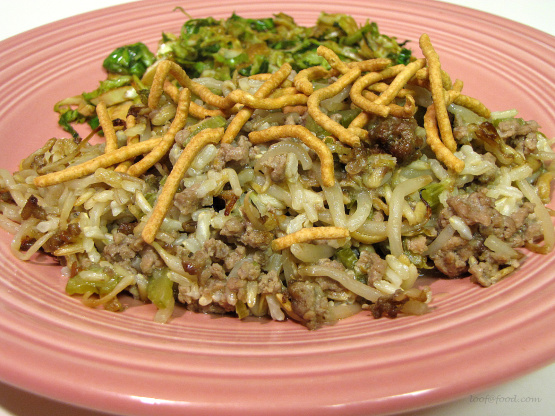 This dish is savory and crunchy. I could not stop munching on the Chinese noodles while I was preparing this dish.

I made this for dinner this past week, and we did enjoy it. It is very simple to make (and I like the fact that its inexpensive). I thought 2 onions and the entire 1 cup of celery was too much, tho. Next time I make this I will use 1 onion and maybe 1/3 cup of celery. The flavor was good. I used white rice and fresh bean sprouts (rather than canned), but unfortunately, "someone" ate my chinese noodles that I had hidden in the cupboard... but hubby swears he didn't eat them! Thank you for posting. I will make this again. (Made for "Name That Ingredient" tag)
Brown onions and celery in butter. Add rice and ground beef, and cook until brown. Add soup, soy sauce, and water. Stir in bean sprouts. Place in a greased 2 quart baking dish. Bake at 350 degrees for 39 minutes, covered. Remove cover and bake for 30 more minutes. Serve with Chinese noodles.