Chunky Potatoes With Cheese, Garlic and Pesto
Mandy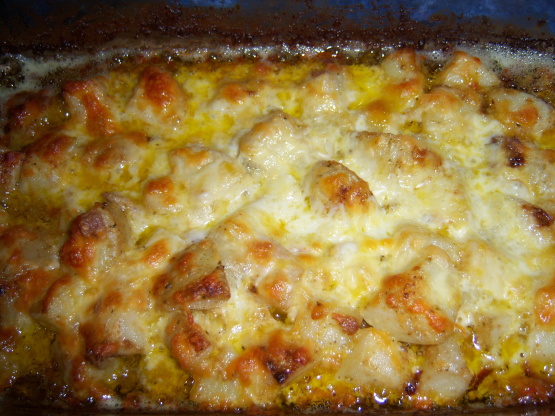 This is a good potato dish from Jeffrey's Restaurant, Milford, CT.

Top Review by Mandy
This is really tasty & sinful, not for those watching their waistline. A nice alternative to scalloped poatatoes and simple to do too. I left the cheese off until the last 10 mins of baking and only used about 3/4 cup for a half serving of the dish. Next time I make this I will try & cut down on the fat a bit by using light ingredients, there was a a lot of oil/fat in this and it seemed to pool a bit in the bottom of the pan. It was still delicious but just a bit too fatty.
Preheat oven to 375ºF.
Place potatoes in 18x12-inch rimmed baking sheet.
Mix cream, sun-dried tomatoes, shallots, garlic, pesto and white pepper in large bowl to blend. Pour over potatoes; stir gently to coat.
Sprinkle both cheeses over potato mixture. Bake until potatoes are tender and cheese is golden brown on top, about 45 minutes. Let cool 10 minutes before serving.