Chunky Nut and Dried Fruitcake
Gigi 23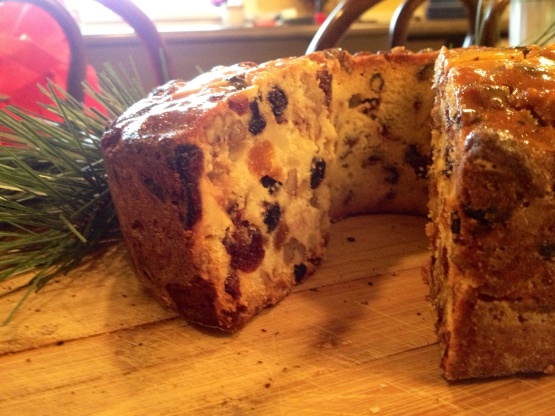 No candied fruits! I made a similar fruitcake last year and was anxious to make it again as it was delicious. It has just enough batter to hold all the luscious ingredients together. I searched everywhere and finally found this which is really close. I use a silicone tube pan. I've fallen in love with the silicone bakeware. Recipes never stick! This came originally from the Better Homes and Gardens Annual Recipes, 2008. I substituted butter for the shortening to avoid trans fats, and walnuts for Brazil nuts for taste. Last year I bought the bags of dried blueberries and cherries separately...a little pricey. But this year I found a mixed bag of dried berries at Costco. It had just enough and a little more of each.
Preheat oven to 325°F Grease and flour 10 inch tube pan;, set aside. In very large bowl beat butter and shortening with electric mixer on medium speed 30 seconds. Add sugar, baking powder, and salt. Beat until combined, scraping sides of bowl as needed. Add eggs, one at a time, beating well after each addition. Beat in extract. Alternately beat in flour and orange juice, beating on low speed after each addition just until combined. Stir in nuts and fruits until combined. Spoon batter into prepared pan, spreading top evenly.
Bake 1 1/4 hours or until wooden skewer inserted into cake comes out clean. If necessary, cover top of cake with aluminum foil anywhere from the last 30 minutes to the last 15 or 20 minutes to prevent over browning. Cool cake in pan on wire rack 15 minutes. Remove cake from pan; cool completely on rack. Wrap cake in cheesecloth that has been soaked in brandy or orange juice. Wrap cake in foil and refrigerate up to 1 month. Moisten cheesecloth every week.