CoffeeB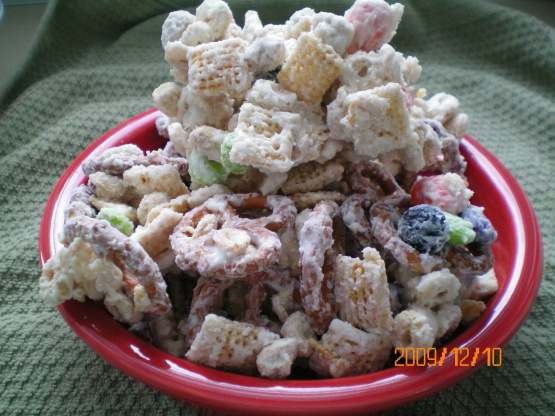 A mixture of various cereals , with peanuts, m&m's covered in white chocolate.

This is a fantastic recipe and one I'll make again, but I did need to use about 1 and 1/2 times the amount of white chocolate bark to get a nice coating and then only some clumped. I'd use even more next time if you really want to be able to spread this and break apart in clumps upon cooling. Made for TYM Tag.~
Mix wheat chex, rice chex, corn chex, cheerios, peanuts, m&m, in a large bowl.
Spread a large sheet of wax paper over counter top.
Melt white chocolate squares in microwave.
Pour melted chocolate over mixture.
Mix together very fast.
Spread evenly over wax paper and let dry, then break apart and you have a great choc snack !