Annacia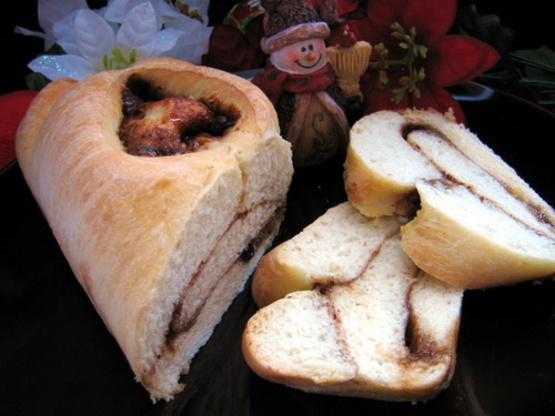 This is a sweet treat I found in Family Circle. Dough has to rise for 30-60 minutes (not included in prep time).

This is absolutely delicious and so easy! I used Annacia's idea and made Recipe #102949 in my bread machine on the dough cycle. I followed your recipe exact, except baked my bread in a 9 x 5 Pyrex loaf pan. Good thing, too, because I didn't seal my seams good enough...some filling leaked out into the pan. Temp and time were perfect. Note of caution: DO NOT cut your bread until it cools! (I know it will be an unbearable wait, but trust me!) I couldn't resist and after about 15 minutes, I cut my loaf in half to get a pic and chow down. Unfortunately, a bunch of the filling starting pouring out because it was still hot. I pushed the halves back together and left it for a little while. Then I carefully sliced a piece from one of the ends and tried it. Spectacular! I'm not sure if I ruined the middle of the loaf by slicing too early, but this bread is delicious and the filling is what makes it. Thanks much! I will definitely make again but wait until it cools before trying to cut the loaf! (Made for 1-2-3 Hits)
Heat oven to 350 degrees.
Coat a rimmed baking sheet with nonstick cooking spray.
Mix together the brown sugar, butter and cinnamon.
Roll dough to a 12x10-inch rectangle.
Top with sugar mixture.
Starting at one long side, fold dough in thirds to enclose filling.
Pinch seam tightly to seal.
Pinch ends and tuck under.
Set on baking sheet, seam-side down; cover with plastic wrap.
Place in a warm spot; let rise for 30 minutes to an hour, until doubled in size.
Remove plastic wrap.
Bake at 350 degrees for 25 minutes, until puffed and golden.
Blend confectioners' sugar and mix until smooth.
Spread over still-warm loaf.
Cut into slices.