Christmas Chocolate Cherry Cookies
Prep 10 mins
Cook 15 mins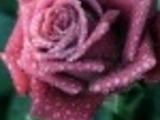 This is a great recipe for a christmas cookie. I make it every year for the family. My kids like the chocolate chips while the grownups prefer the maraschino cherries and coconut.
Directions
Cream shortening and sugar in large bowl with electric mixer until well blended.
Add eggs and almond extract, beating on medium speed until light and fluffy; about 2 minutes.
Combine flour, baking powder and salt. Add to creamed mixture gradually, beating on low speed just until blended. Fold in chips, coconut and cherries.
Drop dough by spoonfuls onto greased cookie sheets.
Bake at 350° for 12-15 minutes or until lightly browned around edges.
Reviews
Most Helpful
I made these for Christmas and really enjoyed them. I read the reviews and used 2/3 chocolate chips and 1/3 white chips. I'm glad I did because I think otherwise the chocolate would have overpowered the cherries. I also used part shortening and part butter. I will be making these again for the Holidays

These are absolutely delicious. I did not get picture-perfect results, which may be because I live at high altitude. My cookies spread a lot during baking, so I will play with this recipe to see if I can overcome this next time. (And there WILL be a next time!) I substituted vanilla extract because I'm allergic to almonds. Also, I divided the dough and used white chips in half the batch, which was also delicious. I only used 1 10-oz jar of cherries, and the cookies seemed perfectly cherrylicious to me. Thanks for sharing!
The kids really liked these. Make sure to really drain the cherries otherwise the dough will be too wet and you will get flat cookies. If that happens you can add another 1/2 cup or so of flour to the remaining dough. That's what I did.

Holiday Central >