Cranberry Cherry Pinwheel Christmas Cookies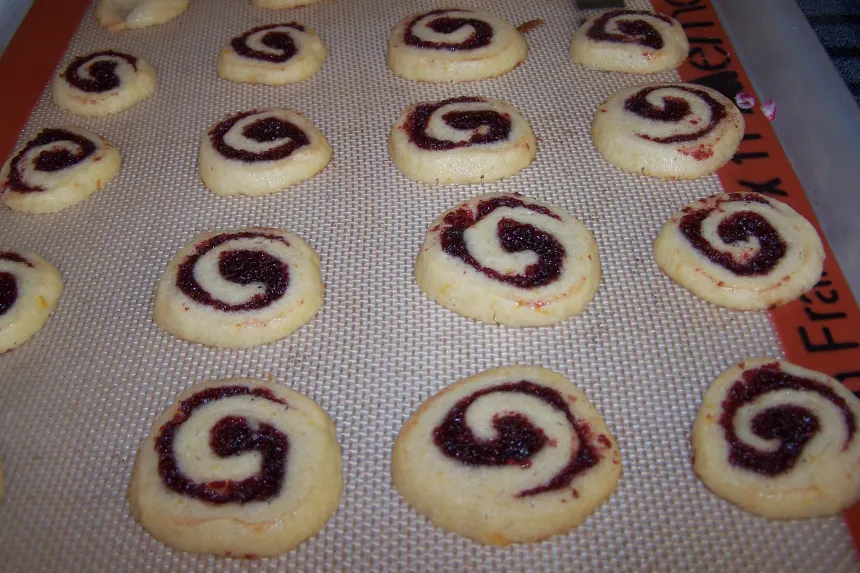 photo by KK7707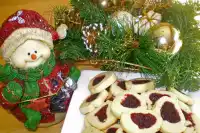 Ready In:

4hrs

Ingredients:

12

Serves:

30
directions
Make filling: Combine cranberries, cherry preserves and cinnamon with water in a medium saucepan. Simmer, stirring frequently, for 5-8 minutes, or until mixture softens and most of the liquid is absorbed. If it seems too dry, stir in 1 tablespoon water. Transfer to a food processor and process until smooth. Refrigerate until cool. (Filling may be stored up to 48 hours. Bring to room temperature and stir well before using.).

Make dough:

Beat together butter and sugar with an electric mixer until light and fluffy, then beat in eggs, orange zest and vanilla. Sift flour, baking powder and salt into egg mixture and beat until combined well. Chill one hour.

Assemble rolls:

Divide dough in half and roll out each piece between sheets of wax paper into a roughly 8 x 12 inch rectangle. Remove top sheet of wax paper (if it sticks too much, refrigerate dough for a few minutes to firm it up).
Divide filling between rectangles, spreading it very thin in an even layer (you may have a little excess filling). Tightly roll up each rectangle jelly-roll fashion, beginning with a long side and using the wax paper as an aid, to form a 12 inch long log. Wrap rolls in wax paper and smooth out the logs by running your hands over them to make them as evenly sized as possible. Be gentle but firm. Wrap in foil and chill until firm, about 2 hours.
Preheat oven to 350°F.
Working with one roll at a time, keeping remaining roll chilled, cut rolls crosswise into 1/8 - 1/4 inch slices. Arrange slices 1 inch apart on ungreased cookie sheets, shaping the slices into neater rounds if necessary. Bake in the middle of the oven until pale golden and set, 8-12 minutes. Let stand on cookie sheet for about a minute to set. Transfer warm cookies to racks to cool.
Passive cooking time includes chilling and baking the entire batch.
Questions & Replies

Got a question?
Share it with the community!
Reviews
These sounded like a great cookie to make at Christmas time, but I had a few problems. When taking the cookies off the baking sheet after cooking them, the filling stuck to the bottom of the baking pan. Many of the cookies broke because of this. I would recommend using either Pam or parchment paper to prevent this. The other suggestion I would make is to roll out the dough to a larger size. I rolled it out to a 6x8-inch rectangle, as stated, and the dough wasn't large enough to make a pinwheel effect -- it only went around the filling once. The taste was good, however, and the kids liked these.

 
RECIPE SUBMITTED BY
One of my passions is to feed people, but I wouldn't work in a commercial kitchen on a bet. It's too hard - and I have great respect for those who do it. I fix dinner for about 60 people once a year and am always looking for new recipes for "the party", which is what led me to this site. My husband and I also make and can jams (especially strawberry - plentiful in Florida, peaches, tomatoes and green beans, not to mention the annual cookie frenzy each December when we make about 75 dozen cookies for gifts. We also smoke salmon often. We love living in Florida, but miss the fine seafood, corn, tomatoes, peaches and apples of the mid-Atlantic coast.?Below I've?defined how I rate recipes to make my ratings more useful. I think this is important as I rely a great deal on ratings and comments by other Chefs and I would like to know what their standards are. How I rate recipes: 5 stars: These are recipes I expect to make many times and require little in the way of changes to be really, really good. This rating doesn't take into account as to whether a recipe is 'gourmet' or just plain good food - if I expect to make it often, it gets 5 stars. 4 stars: These are recipes that are very good, but for one reason or another I don't expect to make it often. The reasons for not making it often can be varied, such as difficulty or cost, but NOT because we just thought it was OK instead of great. These recipes are just as good as my 5-stars and are ones I would consider making again. 3 stars: These are recipes that one of my family or extended family liked or loved, but there wasn't a consensus that it was really good. 3 stars means I probably won't make again unless there are easy changes I can do to make it more to our liking. 2 stars: These are recipes that just aren't to my taste for one reason or another. Could be flavor, poor appearance, difficulty - just about anything. I don't plan to make it again. 1 star: These are recipes I didn't even end up serving to others and will not make again. Usually my problem with these recipes is with the taste. You won't find many of these ratings from me as it is sometimes kinder to just not rate it. If I do rate it, it is to make suggestions on how to improve it.
View Full Profile