Peter J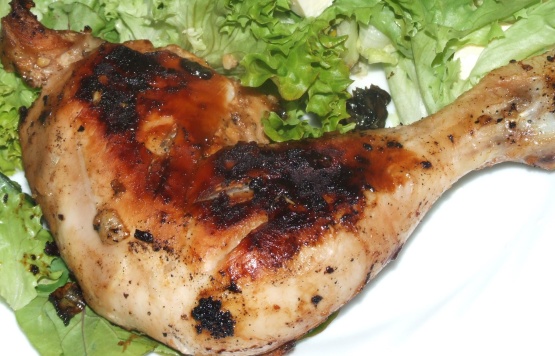 One of the ladies in my mother's group made us this chicken on the barbecue for lunch one week. We all loved it, and I am putting her recipe here for safe keeping. Chris suggests making extra as they are excellent cold, too! They are very easy to make. Cook time includes time to marinate in the fridge.

This was pretty good but I did make a couple of slight alterations-not really by choice ;-) Russ decided he needed some chicken bones for crab bait, leaving me with fillets for this ( I only marinated them for 4 hours). Also, when I went to make this I discovered we had no soy sauce. I was forced to use the sweeter, saltier kechap manis, so used a reduced amount of that. Good flavours in this and I will make it again "properly" soon.
Put all the sauce ingredients into a large bowl and add the chops, turning to coat.
Leave to marinate in the fridge. The longer the better -- overnight is terrific, but just a few hours is good too.
Cook on a HOT barbecue 15 - 20 minutes, turning once or twice, and basting them with any sauce left in the dish.
Or you can cook them in the oven on about 200 for slightly longer -- say 20 - 30 minutes.