Debbwl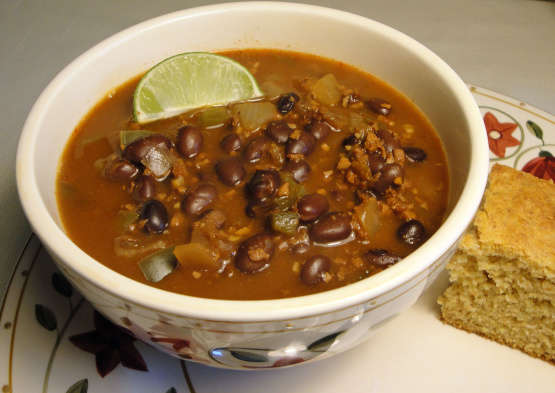 This is adapted from a recipe I found on the Weight Watchers site. The original recipe calls for cooking in a crockpot. Instructions for the crockpot version are included at the bottom. It makes about 5 servings--not a huge potfull.

I just realized now that I'm reviewing this that I forgot the lime juice ~ most definitely would have made this taste better. Not that it tasted bad because it didn't. I made my own chorizo using recipe #363000. The only thing that I would do different next time would be to mash some of the beans to make it a little thicker. Made for New Kid on the Block Tag.
Remove the casing from the chorizo and begin to break it up and brown it in a medium saucepot. After a few minutes add the onion, garlic and green pepper and cook the mixture for about five minutes total.
Add the beans and broth, then the cumin and bay leaf. Let it come to a boil and then simmer about a half hour.
Add the lemon juice. (If desired, add salt, pepper and 2 tablespoons of sherry. I did not think it needed any of that.).
For crockpot use, follow the first step, then transfer all the ingredients into the crockpot and cook on low about 3 hours.
Garnish with cilantro if desired.