Baby Kato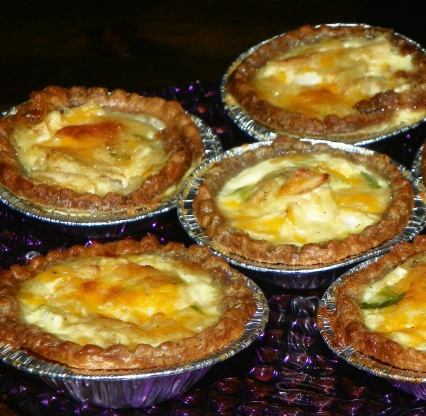 I have a small cookbook from BHG that has favorite recipes from 1930 til 2001. This recipe caught my eye. I have just started to make quiche and this seems like a good starter recipe. It also seems like you also could use bacon, sausage, or shrimp for the meat.

This was sooo good!!! I was a bit skeptical at first since my usual standby quiche recipe includes more eggs, but even still this came out perfect, not watery or uncooked at all. A tip to keep the crust from getting soggy--add shredded cheese to the bottom of the pie pastry, melt and then pour the egg mixture on top. It really works. Loved this recipe, thanks! Made for ZWT8.
Preheat oven to 450°.
Line pastry in pie plate as directed.
Line unpricked pastry shell with a double thickness of heavy-duty foil.
Bake in a 450°F oven for 5 minutes.
Remove foil.
Bake 5-7 minutes more or until pastry is nearly done.
Remove from oven.
Reduce oven heat to 325°.
Stir together eggs, milk, green onions, salt, pepper, and nutmeg in a bowl.
Stir in meat.
Toss the cheese and the flour together.
Add to egg mixture. Mix well.
Pour egg mixture into hot pastry shell.
To prevent overbrowning, cover edge of crust with foil.
Bake in 325° oven for 35-40 minutes or until knife inserted near center comes out clean.
Let stand 10 minutes before serving.