Chocolate Surprise Muffins
CoffeeB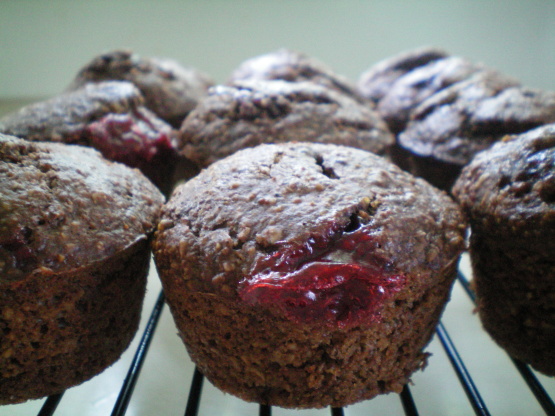 Ssshhhhh! The surprises are: 1) the raspberry in the center, and 2) these muffins are good for you, with bran and wheat germ, and no added fats! Don't tell, and they will never know.

OUTSTANDING! Loved the chocolate & raspberry combo, not to mention the neat surprise! I did take another reviewer's suggestion & used 1/2 cup of cocoa, but then I REALLY LIKE CHOCOLATE! Thanks for sharing a real keeper of a recipe! [Tagged, made & reviewed in Went to the Market cooking game]
Preheat oven to 375 degrees F and grease muffin tins.
In a large bowl, mix the yogurt with the milk. Mix in the beaten egg, honey and vanilla.
Add the bran and wheat germ, mix and let stand for several minutes to absorb the liquids.
Into another bowl, sift the flour, baking soda, salt and cocoa powder. Stir together well.
Add to the wet mixture and stir only until combined.
Drop mixture into muffin tins until 1/3 full.
Add 1 heaping teaspoon raspberry preserves to the middle of each muffin tin.
Top with remaining muffin batter until each tin is 3/4 full.
Place the muffin tins on a baking sheet and bake 15-20 minutes, until muffins have a firm feel and slightly springs back when lightly touched.
Let cool 5 minutes in the tins, then turn out and let cool completely on a wire rack.