Chocolate Pudding Deluxe (For Pies Trifles, Etc)
Karen..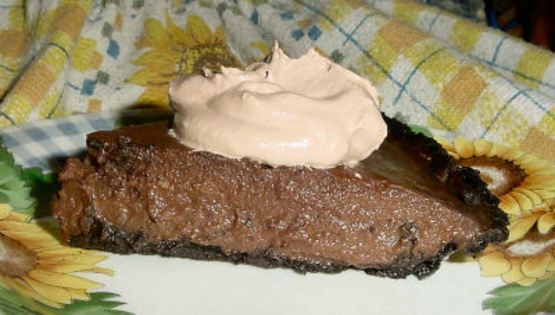 This is my all time favorite pudding recipe. I use it for anything that needs chocolate pudding. Home made is always so much better! Pies, Trifles, or just plain with whipped cream. It is smooth, creamy and a taste that will send you to heaven with delight! Oh, did I say easy to make too? Enjoy!

This was very tasty. I would definitely give it 5 stars+ for the taste! However, after it came to a soft boil, I cooked it only about one more minute as stated. Not being a scratch pudding kind of girl, I had no idea how thick this should have looked at this point. So, after adding the vanilla and butter, I poured it into a pie shell. After 5 hours in the fridge, I still had liquid; it never set. I didn't want to waste it, so I poured it out of the pie shell and put it back on the stove. I cooked and stirred it until it was fairly thick and then poured it back in the shell. It set up nicely and tasted great. I'm sure the texture wasn't perfect, as the butter and vanilla were already in it when I cooked it a second time (assuming there's a reason for adding it after cooking), but the flavor was outstanding. Thanks for posting...now that I know I have to cook it a few more minutes, I'll be using this often.
2

cups milk
1⁄2 cup sugar
3 1⁄2 tablespoons cocoa

2

tablespoons cornstarch

2

eggs
1⁄2 cup semi-sweet chocolate chips or 1⁄2 cup milk chocolate chips

2

tablespoons butter
1 1⁄2 teaspoons vanilla
Put milk in sauce pan. Add the cocoa, sugar, and cornstarch together, mix well add to the milk. Now add eggs. With a whisk, whisk till all is smooth and blended. Over medium heat, heat till a soft boil, add chocolate chips. Continue to stir for about another 2 minute or till nice and thick.
Take off the stove and add the vanilla and butter. Pour into small pudding dishes or bowl or pie crust or what ever you want.