Chocolate Peanut Butter Surprises
CarolAT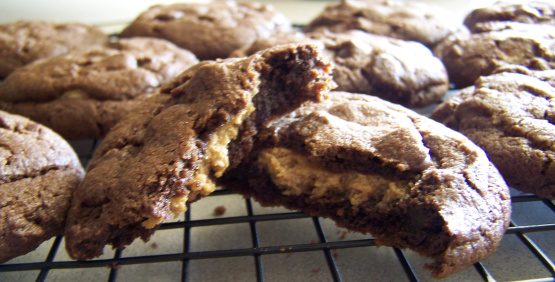 Chewy chocolate cookie with peanut butter center. You definitely want to use the full 1 tsp of filling per cookie otherwise you won't be able to taste the "surprise". Prep time is chill time.

Top Review by Bri311
These are some of my favorite cookies ever! I remember having them as a kid, and was excited to find the exact recipe online! If you are a choclate peanut butter fan, these cookies will make you drool while you make them. I love them for a treat for friends! The gooey peanut butter/brown sugar center is something I haven't seen in any other cookie! Yum!
Sift together flour, cocoa, baking powder and baking soda.
In separate bowl, beat butter, shortening, sugar and 1 cup of the brown sugar for 2 minutes. Add eggs one at a time until fully combined. Add vanilla and mix.
Gradually add in dry mix until fully combined. Stir in chocolate chips.
Cover bowl and chill for 1 hour. Preheat oven to 350 degrees.
In small bowl, stir together peanut butter and 1/4 cup of brown sugar.
Using 1 1/4" scoop, drop dough onto cookie sheet about 2 inches apart. Make thumbprint in cookie and fill with 1 tsp of peanut butter mixture. Top with a second scoop of dough and mold over "surprise".
Bake until firm, about 12 minutes. Cool for 5 minutes on sheet before removing.