Chocolate-Peanut Butter Oatmeal
Izy Hossack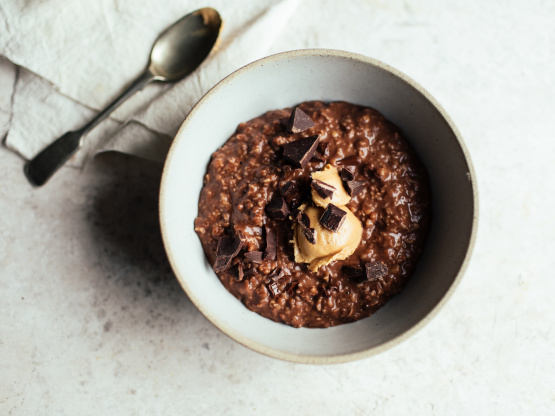 In Canada we have a chocolate bar called "Crispy Crunch", and this is what I call this oatmeal in my house. It has protein, soluble fiber, and great taste.
Very chocolatey! Yum, with or without the peanut butter. I made with milk and on the hob.
1⁄4 cup hot chocolate powder (I use the sugar-free mix from this site, my variation in the review)
1⁄4 cup large flake oatmeal
1⁄2 cup water

1

tablespoon natural chunky peanut butter
Combine the hot chocolate mix and oat flakes.
Add the water, stir, and microwave for approximately one minute on high.
Stir well, and add the peanut butter. This will melt into the oatmeal as you continue to stir.
I eat it without adding milk, but that is up to you.