Annacia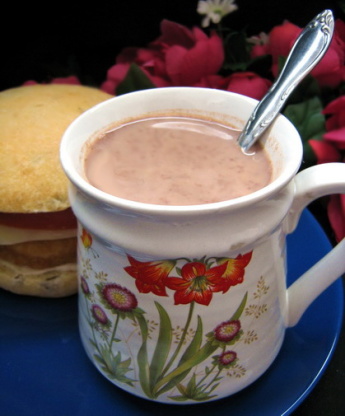 I have not tried this hot chocolate. I'm posting this for safe keeping. I found this recipe in I'm The Chef The Young Chef's Mexican Cookbook. For a quick and easy version of this recipe, follow these instructions: In a pot, boil 4 cups (1 liter) of milk, Add one tablet of Abuelita Chocolate. Stir until the tablet dissolves in the milk. Sprinkle with cinnamon and serve hot.

Delicious. I made a single serving for lunch today and it wasn't enough the fill the mug . I added fat free evaporated milk to top the skim milk that I used. I got a rich tasting cocoa with a lovely body and texture. Also, I used 1 tbsp of Splenda in place of the sugar. Thanks for posting this one, :D.
Place the sugar, cocoa, salt, flour, cinnamon, and water in a large saucepan. Place the saucepan over low heat and stir until the mixture dissolves into the water.
After the mixture is dissolved, turn up the temperature of the stove to medium-high. Stir the mixture until it boils. Boils for 3-5 minutes, stirring all the time.
Add the milk. Continue to stir until the milk is hot, but not boiling.
Just before the milk boils, remove the saucepan from the heat. Stir in the vanilla extract, and serve!