Chocolate Hazelnut Spread (Mock Nutella from Gale Gand)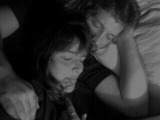 Recipe courtesy Gale Gand. Keeps 1 month, covered, at room temperature. Try it on No Ice Cream Nutella Cones. Some Nutella history: Chocolate and hazelnut is a classic taste combination in northern Italy, where it goes by the name of 'gianduia' (pronounced jon doo ya). Pietro Ferrero, a candy maker in Italy, blended the two into a spread in 1946, and the company that carries on its production says that Nutella has grown to become the best-selling sweet spread in the world. For another (simpler) but lower calorie version, try Mock Nutella Spread
Directions
In a food processor, grind the hazelnuts into a paste. Add the oil, sugar, cocoa powder, and vanilla and continue processing. Add the melted chocolate and blend well.
Strain the mixture through a fine strainer to remove any large grains of nuts. The mixture will be thin and a little warm. Pour into a jar to let cool and thicken slightly.
NOTE: To roast and peel hazelnuts: Preheat oven to 350°F Place nuts in a single layer on a shallow baking pan. Toast until the skins are almost black and the meat is dark brown, about 15 minutes, stirring halfway through baking so ensure an even color. Let cool, then place the nuts in a clean kitchen towel or paper towel, and rub until most of the skins have come off.
Reviews
Most Helpful
This is delicious. It has a much better taste than Nutella from the jar. However, after sitting covered on the counter overnight, it became very hard, like fudge and could not be spread. I softened several tablespoons in the microwave for 10-20 seconds.
5 Stars, delicious! I had made Mock Nutella Spread #328643 previously. This version had a much higher proportion of chocolate to nuts, so the hazelnut flavor was subtle. The instructions for roasting the hazelnuts in their thin skins (like peanuts) without the hard outer shell were helpful (especially the advice to stir halfway through), and promoted a smoother consistency; however the preparation time was MUCH longer to remove the peel from each nut. I used a double boiler to melt milk chocolate chips. Once you find hazelnuts (Trader Joe's), keep them in the freezer. Of course, it's much easier to find Nutella in almost any grocery store these days, so I doubt you would save any money by making your own. I would recommend making your own only if you require strict control over the ingredients. Note: this recipe makes 2 cups, not 1 cup. Thanks for posting. Made for Please Review My Recipe.