Chocolate, Cranberry & Oat Bars
Redsie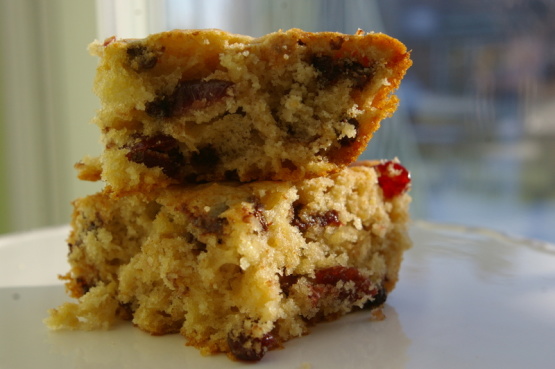 From Kraft. These turned out so moist and delicious! Used 1 1/4 cup of brown sugar and will lower it next time to 1 cup to lower a bit the calories! Also used about 1/2 cup of mini chocolate chips instead of the baking squares. You've got to try this! :)

I love this recipe and have made it many times - this is one of my favorite things to have for breakfast! The only change that I make is to reduce the amount of dried cranberries to 1/2 cup and the orange juice to 1/8 cup and increase the amount of pecans. I also use chocolate chunks instead of chocolate chips. Very good and easy!
Preheat oven to 350ºF.
Combine cranberries and orange juice in microwaveable bowl. Microwave on HIGH 30 sec. Let stand 10 minute.
Meanwhile, combine flour, oats, baking powder and salt; set aside.
Beat margarine and sugar in large bowl with electric mixer on medium speed until light and fluffy. Add eggs, one at a time, beating well after each addition. Gradually add flour mixture, mixing well after each addition. Stir in cranberry mixture, chocolate and pecans.
Spread dough into 13x9-inch baking pan sprayed with cooking spray.
Bake 25 to 30 minute or until lightly browned. Cool completely on wire rack before cutting into bars.