Chocolate Cookie Crumb Crust
Zaney1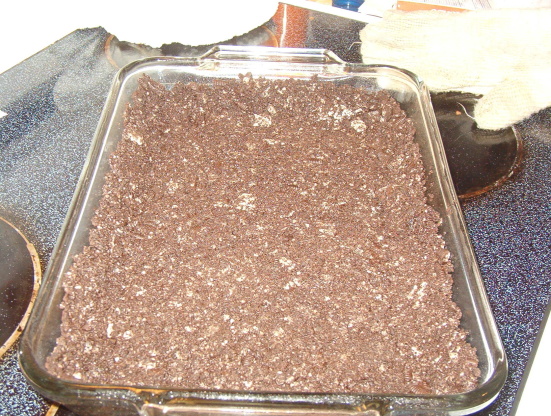 Like we need another excuse to buy Oreos.....

Delicious! Only thing I might do differently next time would be to increase the recipe by 1/4 or 1/3. The crumbs were a little big and I was lazy about getting it spread evenly over the pie plate and had a few thin spots. Made for a Turtle Cheesecake Pie. YUM!
16

Oreo cookies, with filling,broken into rough pieces (about 2 1/2 cups)

2

tablespoons unsalted butter, melted and cooled
Place rack to middle position and pre heat oven to 350 degrees F.
Place cookies in large zip-lock plastic bag and crush with rolling pin.
(Or use food processor) Transfer crumbs to medium bowl, drizzle with butter, and mix with fingers until well combined Pour crumbs into 9-inch Pyrex pie plate.
Press crumbs evenly onto bottom and up sides of pie plate.
Refrigerate for 20 minutes to firm crumbs, Bake until crumbs are set, about 10 minutes.
Cool on wire rack.