Chocolate Chocolate Chip Sour Cream Banana Bread
Redsie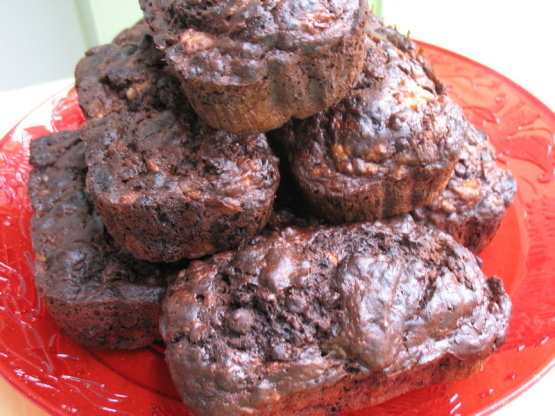 Do not let this banana bread's long name fool you! Very easy to make, and WONDERFUL bread is the result.

These are very good! I've never really cared for chocolate banana bread, but this rocks! My kids say they taste like a brownie. The only change I made was that I used semi-sweet chocolate chips because I didn't have any milk chocolate chips. Either one, I'm sure is great! I wanted my kids to take this to school in their lunches so I made 12 muffins and baked for 20 minutes. I also got one large loaf pan (baked for one hour) and a mini loaf pan (baked for 40 minutes). I did use low-fat sour cream with great results. Thanks for sharing this recipe.
Cream the butter, sugar and vanilla together.
Then add the eggs and mix.
Then put in the dry ingredients and mix well.
Add the bananas and sour cream and mix.
Then add in the chocolate chips and pour into 3 greased loaf pans.
Bake at 350 for 1 hour, or until a toothpick that has been inserted into the center comes out clean.