ImPat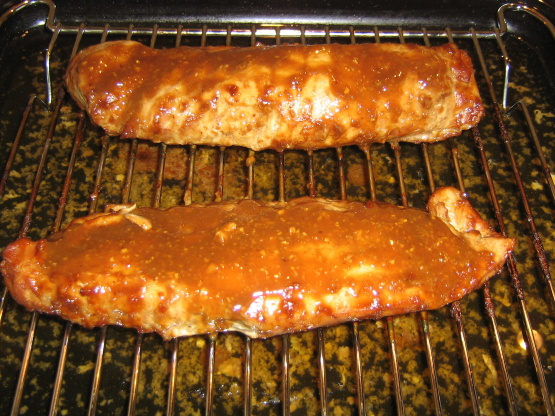 This is my most treasured recipe that I serve to guests . I am asked for the recipe whenever I serve it. Family request that I made this dish often but I only serve it on special occasions. I am posting this recipe since I have gotten so many excellent recipes from Zaar and it is time to add my special recipe.I got this recipe from a magazine a few years ago. I hope you enjoy it as much as we do.

Top Review by ImPat
Used up the last of my pork tenderloins I bought on special 6 months ago for $10/k - then $20/k (now selling $30/k). On taste I would cut the soy to 1 tablespoon and up the brown sugar to 2 teaspoons as we found it a bit too salty even using low sodium soy but the DM is a salt fiend and found it devine. The 2 pork fillets I used weighed about 360g each (did no trussing) and they took 40 minutes to cook at 175C fan forced oven (could possibly have taken that back to 35 minutes for perfection). I spooned the marinade over every 10 minutes, allowing 10 minutes after the last basting for cooking to make sure there was no raw product. Enjoyed though we do prefer a saucier meal and will do again but will have to wait till the fillets are on special again. Thank you Dotty2 team mate in Aussie Recipe Swap #25 January 2009.
Trim any fat from tenderloins;tuck ends under and tie ech tenderloin with kitchen string.
Place in a shallow glass dish.
Whisk together Marinade and pour over tenderloin,turning to coat.
cover and refridgerate for at least 2 hrs or up to 24 hours, turning occasionally.
Let stand for 30 minutes at room temperature before cooking.
Place meat on rack in roasting pan reserving marinade.
pour 1 cup water in pan.
bake,basting generously 4 times in 375f oven fot 35-45 minutes or until meat themometer inserted at 20-degree angle registers 160Fand meat still has a HINT of pink.
Remove to cutting board and tent with foil.
Let stand for 10 minutes.
remove string, slice pork diagonally into thin slices.
note Variations:This can also be cooked on the BbQ.
Thai BBQ POrk: substitute fish sauce for soy sauce,and lime juice for for sherry.
increase gingerroot to 1 tbsp and 1 tbsp chopped fresh coriander for five spice powder.
Time does not include standing time.