Chimichangas (My Take on Ww Recipe)
Derf2440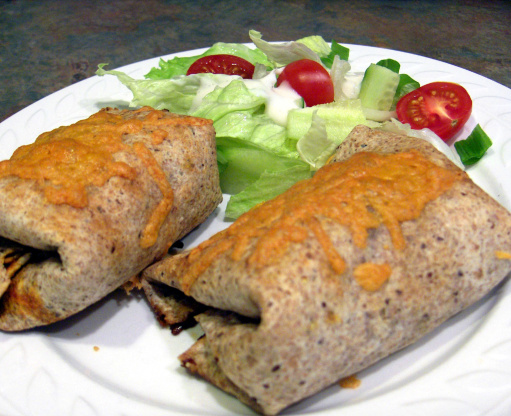 While the WW recipe was good, I wanted to change it just a bit to suite my own preferences. Here's what I came up with.

These were excellant, made them for PAC fall 2008, supper tonight. Delicious and just the right amount of heat. I used whole wheat tortillas and ground lean turkey meat, didn't have any chilies in so used a jalepeno pepper to replace them, seemed to work fine. Loved the spices and herbs, very tastey. Also used light cheddar cheese because that was what I have in.Forgot to put the no fat sour cream out 'til the last minute, so it dosen't show in the photos. Enjoyed our supper very much, seved with a simple lettuce/tomamto/onion salad. Thanks for posting , I will make them again.
Preheat oven to 400 degrees F.
Spray a baking sheet with nonstick spray.
Spray a skillet with nonstick spray; set over medium-high heat.
Add the turkey, onion, garlic, chili powder, oregano, and cumin and cook until the turkey is done.
Add the tomato sauce and the chiles; bring to a boil.
Reduce the heat and simmer, uncovered, until the flavors are blended and the mixture thickens, 5 minutes or so.
Remove from the heat and stir in 1/2 the cheddar cheese.
Wrap the tortillas in foil and place in the oven to warm for 10 minutes.
Spoon about 1/2 cup of the filling into the center of each tortilla.
Fold in the sides, then roll to enclose the filling.
Place the chimichangas, seam-side down, on the baking sheet.
Sprinkle the other 1/2 of the cheese on top.
Bake until golden, 15 minutes or so. Enjoy!