Chilled Potato and Leek Soup - Vichyssoise
Peter J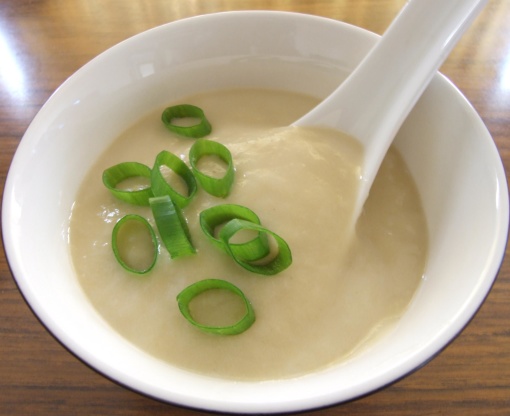 Most recipes for chilled potato soup have lots and lots of heavy cream thus fat. This recipe is very simple to put together and very low in fat. As it chills it becomes super thick and creamy. After having tried this both chilled and at room temperature, I highly recommend room temperature. The recipe is from William-Sonoma Essentials of Healthy Cooking.

This was pretty good but I wasn't thrilled. I think it could use a bit more salt, perhaps 1/2t instead of 1/4. That said, it was thick and creamy even without an entire cup of heavy cream like most recipes.
In a heavy saucepan, over medium-high heat, combine the leeks, green onions and 1/2 cup of the chicken stock.
Bring to a boil, reduce heat to low, cover and cook until the vegetables have wilted and begin to soften, approximately 8 minutes.
Add the diced potatoes and remaining 2 1/2 cups chicken stock, replace the cover and cook until vegetables are very soft, 20 to 25 minutes.
Remove from heat, uncover and allow the soup to stand for 15 minutes to cool slightly; stir in the butter.
Very carefully transfer the hot vegetable mixture to blender container, puree until very smooth and in several batches if needed.
Season with salt and pepper; allow the soup to cool to room temperature before placing in the refrigerator.
When cool, cover and place in refrigerate until well chilled, 3 to 4 hours or serve at room temperature; adjusting seasoning if needed.
To serve, divide into individual serving bowls and garnish with some of the reserved green onion tops that have been thinly sliced.