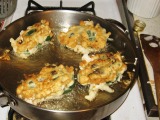 If you need an easy covered dish, this one might work for you. I prefer the white corn but yellow corn is okay too.
Directions
Cook the corn according to package directions and allow it to cool.
In a mixing bowl, combine the cooled corn with the onion, green pepper, and the parsley. Stir in the olive oil and vinegar. Add the salt and pepper and stir.
Cover and chill in refrigerator for at least one hour prior to serving.