Chili Cheese Dog Quesadillas
hipQuest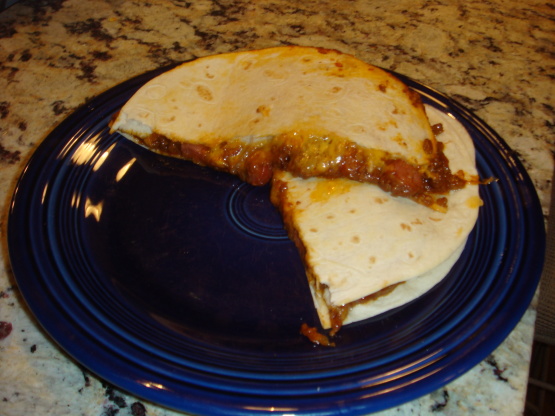 I found this recipe on About.com. Very simple. Sounds like a crowd pleaser.

This was a definite winner with the kids in my house. They loved it for a quick lunch this weekend. I didn't change a thing except I used sharp chedder instead of regular and I used chili with no beans. This will be made again. Thank so much for sharing. Made for PAC Fall/2008.
Heat 1 tsp olive oil over medium heat.
Slice hot dogs into 1/2 inch slivers. Add to skillet and brown on both sides. Remove and set aside.
Add remaining olive oil to skillet.
While oil is heating, assemble quesadillas: Place 1-2 tbsp chilli onto one half of each quesadilla. Top with hot dog slivers, tsp ketchup, and 1/3 cup of cheese, and fold.
Transfer quesadillas to skillet, one at a time. Brown on both sides until cheese is melted.