Chile Verde Fideo With Chicken
Prep 20 mins
Cook 20 mins
Tex-Mex pasta? You bet! It's called Fideo.
Directions
In large skillet, heat oil over medium heat.
Add fideo and onion.
Cook, stirring and turning constantly until the fideo is golden brown and toasted.
Add garlic, chiles and tomatoes to fideo mixture.
Sauté for 2 minutes.
Add broth, chicken and salt and pepper.
Heat to boiling; reduce heat to low and cook covered for about 5-7 minutes or until fideo are tender.
Remove cover and continue cooking for a few minutes until all liquid is absorbed.
Sprinkle with minced cilantro/grated cheese, if desired.
Most Helpful
This I made for dinner tonight. I have to admit I added a few more spices. Cajun seasoning and cumin. It was good
I made this to go with tacos and quesadilla's this weekend and was very pleased with the flavor. A great side for a mexican themed meal. Thank you very much! :)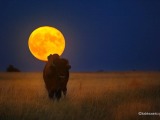 it was not too bad.. I added more water + chicken boullion so that it would remain soupy, but then the flavor was a bit bland. I would suggest adding a can of tomato sauce as well.