Parsley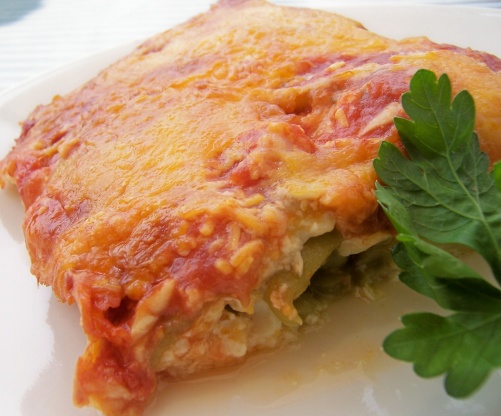 A friend of mine made something similar to this a few years back for breakfast. It was so good I had to have the recipe. This is definitely one of my savory favorites. Thanks Linda for sharing your recipe.

My 11 year old LOVES this. Has requested several times. I used 1 can of chilies, and 1 can of jalapenos the 2nd time I made this. (what I had on hand). Really good. Thanks for a great recipe
Preheat oven 375°F.
Beat half & half, 4 eggs and flour until smooth.
Split whole chilis open, clean seeds off and drain on paper towl.
Mix cheese, reserving 3/4 cup for top.
Make alternate layers chilies first, remaining cheese, and egg mixture in a deep 1-1/2 qt baking dish or a 9x13 casserole dish and repeat. Pour tomato sauce over top.
Sprinkle with reserved cheese.Cover with foil, bake at 375°F for 1 hour and 15 min without foil or until cooked in center.
Let rest 10 minutes to set before serving.