JackieOhNo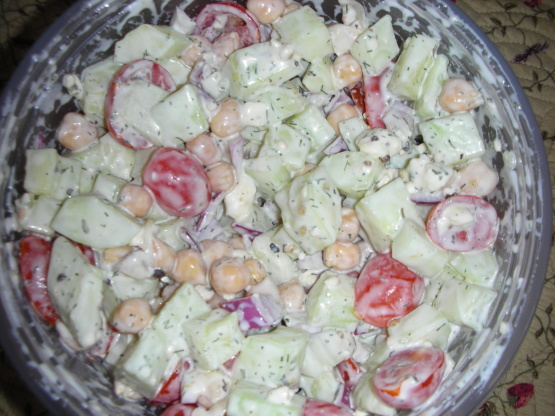 A Middle Eastern salad I found online. Haven't tried it yet, but looking forward to doing so here soon. ZWT Summer'07

This was great! I used parmesan peppercorn dressing and added dill. Superb!
15 1⁄2 ounces chickpeas, drained and rinsed

3

cups peeled seeded and diced cucumbers

2

cups halved grape tomatoes (or cherry tomatoes)
1⁄4 cup crumbled reduced-fat feta cheese
1⁄4 cup diced red onion
1⁄2 cup creamy dill ranch dressing
Place chickpeas, cucumber, tomatoes, cheese, onion, dressing and pepper in a medium bowl.
Mix until coated.