awalde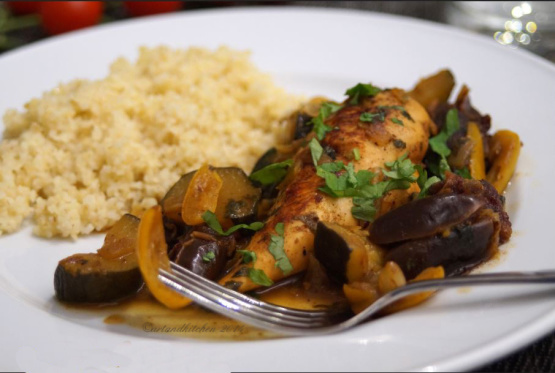 A delicious chicken dish with couscous. You only need to throw in a salad for a complete meal!

Top Review by awalde
This is one of my favorites ways of cooking and the Maroccan cuisine is one of my favorites.<br/>This dish is phantastic, I never cooked with kumquats and this was a great discovery for me.<br/>The sour taste of the citrus had been very well balanced by the honey! Thanks the slow cooking the sauce got lightly thick and it was a pleasure to enjoy it with bulgur (substitution form couscou).<br/>I will make this again for sure and I really recommend this delicous dish even for special guests.<br/>Thanks a lot for posting this delicious recipe!
Heat olive oil in heavy large skillet over medium-high heat. Sprinkle chicken with salt and pepper, add to skillet and brown, about 7 minutes per side. Transfer chicken to plate. Pour off all but thin film of fat from skillet. Add onions, reduce heat to medium and sauté until very tender and beginning to brown, about 10 minutes. Add squash and stir 2 minutes. Add cinnamon, cumin and saffron and stir until fragrant, about 30 seconds. Add chicken stock and bring to boil, scraping up browned bits. Add chicken with any drippings on plate, kumquats, pitted prunes and honey.
Cover skillet and simmer until chicken is cooked through, turning occasionally, about 30 minutes. Uncover and boil until liquid thickens to sauce consistency if necessary. Season to taste with salt and pepper. (Can be made 1 day ahead. Cover and chill. Rewarm covered over medium heat.).
Mound couscous on plates. Spoon chicken and sauce over. Sprinkle with cilantro and serve.