Brenda.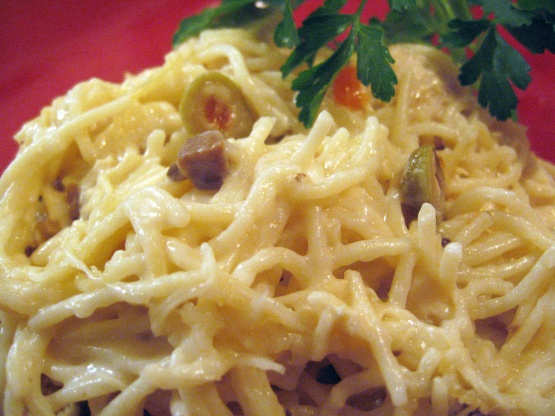 My dear friend Lisa made this for us one night and I loved it. I also love how easy it is to make. I haven't made it with the pecans, but I am sure it would be good.

Made this for dinner last night and both my husband and I really liked it. I used 16 oz. of Four Cheese Alfredo sauce, didn't have any sherry or wine, so I used 2 T of brandy, used jalepeno stuffed olives for a little extra kick and added some black pepper. Looking forward to having the left-overs for dinner again tonight!
8

ounces vermicelli, broken into thirds

1

(10 ounce) container alfredo sauce

1

(10 ounce) can cream of mushroom soup

3

cups cooked chicken, chopped

1

cup shredded parmesan cheese
1⁄4 cup pimento stuffed olive, drained & sliced

2

tablespoons sherry wine (dry or golden)
1⁄4 cup chopped pecans
Preheat oven to 375.
Bring medium-size pot of water to a boil over high heat.
Add salt, if using, and stir in the vermicelli.
Reduce heat to medium-high and cook the vermicelli, uncovered, until al dente (5-7 minutes).
Reserve 1/2 a cup of water, then drain the vermicelli well in a coander.
Transfer pasta to a large mixing bowl.
Add the alfredo sauce, mushroom soup, reserved cooking water, chicken, parmesean, olives and sherry and stir until well combined.
Scoop the mixture into a 13x9 dish.
Scatter the pecans over the top.
Bake the casserole until it is bubbling throughout, 25-30 minutes.
Serve immediately.