Bergy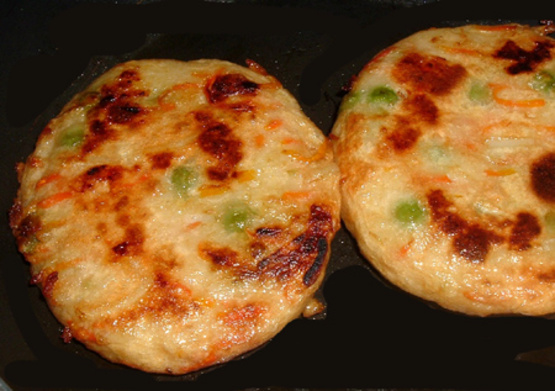 This dinner pancakes are light, healthy and delicious. The carrots and zucchini give them great color and the tempura batter makes them slightly crispy. Serve with the soy dipping sauce.

Top Review by Bergy
I am not awarding stars because I think I made a couple of errors making this recipe. The flavor was excellent but they were very soft and very difficult to flip on the pan, they wanted to fall apart (and did) The recipe says chop chicken very fine - mine was 1/4" dice, the recipe says 1/2 cup patties - mine were larger. My beans sprouts were well drained but still had some moisture on them. Next time I will use fresh bean sprouts. The sauce is very easy and perfect for the patties. I will make it again but to be fair I think it was the cook at fault here not the recipe. I did enjoy the flavor Added comments -I made these again, vegetarian, omitted the chicken and increased the flour to 1/2 cup. Used all fresh vegetables. They were lovely
Combine flour, egg, water. This should make a thin batter. Adjust ingredients as necessary.
In a separate bowl, combine carrots, zucchini, garlic, ginger, bean sprouts and chicken.
Pour batter over vegetable and chicken mixture, gently stir until the mixture is covered with batter.
Heat oil over medium-high heat in frying pan.
Pour 1/2 cup portions of mixture in frying pan. Cook for 3-4 minutes on each side, until golden brown and cooked through.
Combine soy sauce, vinegar and sugar. Serve on the side with pancakes as a condiment.