Chicken Tacos With Charred Tomatoes
PaulaG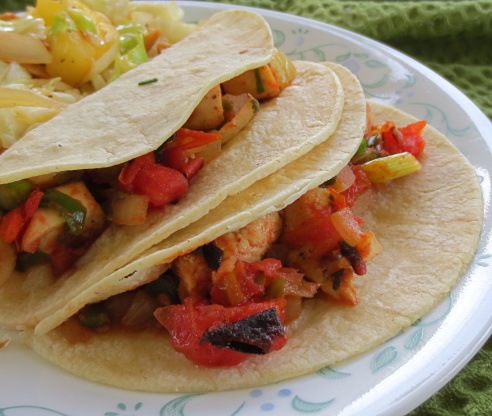 I found this recipe on the Eating Well website. Charring tomatoes in a hot, dry skillet makes them smoky and flavorful; in combination with fresh herbs and spices, they elevate this dish from "everyday" to "ta-da!" Serve the tacos with reduced-fat sour cream.
I really enjoyed these tacos for lunch today!! I loved the smokey flavor that the charred tomatoes added to the chicken. I made it a little easier by using some leftover cooked chicken from my beer-can chicken recipe, which I added it in with the onion and pepper, to heat through while the veggies softened. I used my gas grill to char the tomato, one less pan, lol!!! I also used "Gourmet Garden" brand cilantro (organic cilantro in a tube found in the refrigerated area of the fresh produce) to not waste fresh cilantro. I prefer the flour tortillas, so I made 2 crispy shells. Next time, I would definitely add some cheese and lettuce/cabbage to the tacos and also some smoked paprika, cumin etc for more flavor. Thanks for sharing the recipe. Made for PRMR Tag Game.
2

plum tomatoes, cored

8

ounces chicken breasts, boneless, skinless trimmed of fat
1⁄4 teaspoon salt
1⁄8 teaspoon black pepper

2

teaspoons canola oil, divided
1⁄2 cup white onion, finely chopped

1

garlic clove, minced

1

small jalapeno pepper, seeded and minced

2

teaspoons lime juice, plus lime wedges for garnish

2

teaspoons fresh cilantro, chopped

2

scallions, chopped

6

small corn tortillas, heated (see Tip)
Heat a medium skillet over high heat until very hot. Add tomatoes and cook, turning occasionally with tongs, until charred on all sides, 8 to 10 minutes. Transfer to a plate to cool slightly. Cut the tomatoes in half crosswise; squeeze to discard seeds. Remove cores and chop the remaining pulp and skin.
Cut chicken into 1-inch chunks; sprinkle with salt and pepper. Add 1 teaspoon oil to the pan and heat over high heat until very hot. Add the chicken and cook, stirring occasionally, until it is browned and no longer pink in the middle, 3 to 5 minutes. Transfer to a plate.
Reduce the heat to medium and add the remaining 1 teaspoon oil. Add onion and cook, stirring, until softened, about 2 minutes. Add garlic and jalapeño and cook, stirring, until fragrant, about 30 seconds. Add lime juice, the chicken and tomatoes. Cook, stirring, until heated through, 1 to 2 minutes. Stir in cilantro and scallions. Divide the chicken mixture among tortillas. Serve with lime wedges.
Tips & Notes.
Tip: Wrap tortillas in barely damp paper towels and microwave on High for 30 to 45 seconds.