Chicken - South Of The Border
Bergy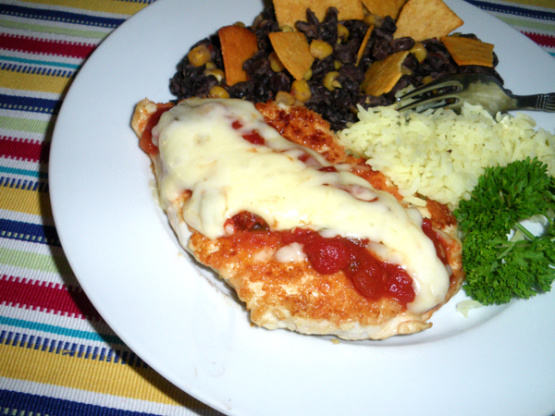 I found this recipe in an issue of Good Housekeeping back in the early 80's,when Southwestern/Mexican recipes were hard to come by - at least here in Wisconsin . It's like a Southwestern version of Chicken Parmesan. I used to use Pace Picante on it, but you can adjust it with any salsa or heat level you prefer. I also added the green chiles because I love them! Also would accompany this chicken with home-made Mexican rice, and a picante-based vegetable "stew."

Top Review by Bergy
Mep I shall remember you every time I make this chicken - I will be making it again. because it was so tasty. I cut back on the breading by only using a light dusting of Panko crumbs and the seasonings - no egg, no flour & no cornmeal. There was just enough to give a bit of crisp coating. Then used Hot salsa and lite Havarti cheese - It was delicious.
Pound chicken breast halves to 1/2 inch thickness.
Combine flour and seasonings in a medium bwl.
Lightly beat eggs.
Measure cornmeal into a shallow bowl.
Dip chicken, first into seasoned flour,then in eggs, then coat with cornmeal, and chill in the fridge.
Saute coated chicken in vegetable oil over medium heat about 5 to 6 minutes on each side,or until golden.
Arrange chicken on an oven-proof platter or baking dish, spoon salsa or picante over the chicken, top with chopped chilies, then Muenster slices.
Place in a 350* oven or in the broiler, for about 15 minutes - until the cheese has melted to your tastes.