J-Lynn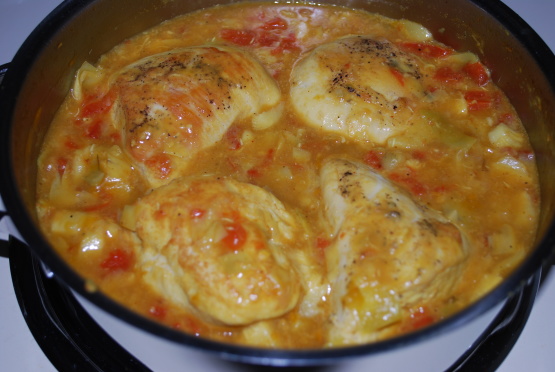 Serve with rice or orzo pasta. 1/4 teaspoon of hot pepper flakes is just enough to jazz up the dish, if you like spicy hot food, then add more or add in some cayenne pepper. Enjoy :)

Top Review by J-Lynn
I wanted to try something new... this was really good! I omitted the mushrooms and wine, but don't think we missed them. And I only had regular French's mustard, but it still tasted alright. Very flavorful sauce and plenty of it; I did add fresh minced garlic. The main flavor is mustard, yet it's not vinegary or overpowering. I think next time I'll also omit the cayenne; I didn't find it necessary. I doubled the cornstarch mixture to get the consistency I wanted. Very good, thanks for sharing!
season chicken with salt and pepper. heat 1 tablespoon oil in large nonstick skillet over med-high heat. cook chicken for 5 minutes or until browned on both sides. remove and set aside.
heat 1 tablespoon oil in same skillet oven med-high heat until hot. add mushrooms, cook and stir for 5 minutes or until mushrooms are tender. stir in broth, wine and mustard, and pepper flakes. return chiken to skillet. add tomatoes, artichoke hearts. heat to boiling. reduce heat to med-low, cover and cook for 10 minutes or until chicken is no longer pink in center. combine cornstarch and 1 tablespoon cold water in small bowl. stir into skillet. heat to boiling, cook stirring over high heat for about 1 minute or until sauce thickens.
sprinkle with dried parsley flakes and serve.