Chicken Ravioli Primavera (6 Ww Points)
punkyluv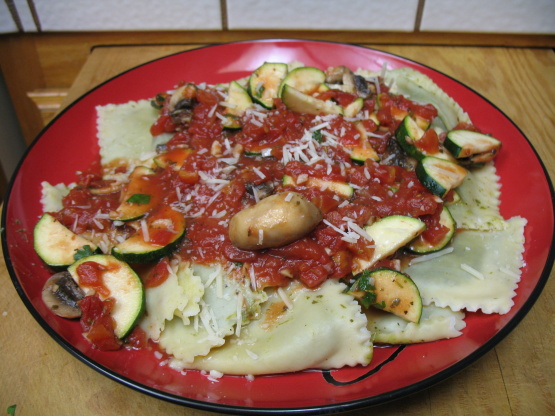 This looks really good! I haven't made it yet but I hope to soon. UPDATE: 3-23-09 This is a keeper. Made with refrigerated spinach & ricota ravioli (thanks moms). I added mushrooms :), and of course extra garlic. I used pettie tomatoes instead of crushed and added italian seasoning. The taste of the sauce is great! it comes out very "saucy"
. Heat oil in a large nonstick skillet over medium-high heat. Add garlic, and saute 1 mintue.
Add tomatoes and next 4 ingredients. Bring to a boil. Reduce heat, and simmer, uncovered,
10 minutes, stirring occasionally. Add zucchini; cook 5 additional minutes or until tender. 2.
While zucchini cooks, cook ravioli according to package directions. Drain well. Place on a
large serving platter. Top with tomato mixture, and sprinkle with cheese. Garnish with basil
sprigs, if desired.