Food.com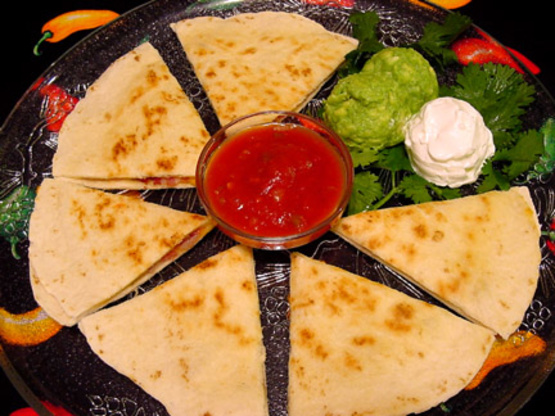 A chicken and bacon quesadilla, just like they serve at Applebees Resteraunt.

These were SO good! I used whole wheat tortillas, turkey bacon & salsa for the pico. I also used reduced fat cheese. The directions made is really easy, so thanks! (usually I struggle with getting burnt tortillas &/or filling getting everywhere!) I shredded the chicken; made it easier. I also used nonstick butter spray; saved some calories! Thank u so much for sharing; this is going to become a new favorite I'm sure!
Slice bacon and fry until bacon starts to turn crisp but not hard and brittle.
Remove from pan, drain bacon and set aside.
Spread butter lightly on one side of the flour tortilla shell.
Place buttered side of shell down, into a non-stick fry pan that has been preheated on medium heat.
Sprinkle 2 tablespoons of bacon over entire shell, then add 1 tablespoon Pico de gallo, and 1/4 cup shredded Colby/Monterey Jack cheese over the bacon.
Add pieces of the cooked chicken.
Place the second flour shell on top of fixings, buttered side up.
Cook for about one- two minutes just long enough to heat the inside ingredients and then carefully flip the quesadilla on the other side and finish cooking.
The quesadilla should be heated through but not browned.
Remove quesadilla and place on a serving dish and cut into individual triangle serving pieces.
Serve quesadillas with your favorite guacamole sour cream, and picante sauce.