Chicken or Turkey Breast Lunchmeat
Petal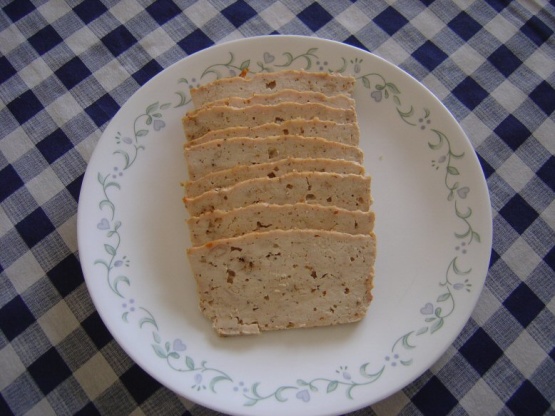 I wanted to make my own because I try not eat most prepackaged foods. This has worked great for us. It is simple to make. It can be frozen after it is sliced with double wax paper between slices (single is okay double is just better if you freeze it for ease of seperation).

PS -- this is a life saver for me! I have been looking everywhere for lunchmeat that doesn't have sugar or starchy fillers in it, and I thought it would come to the fact that I would have to make my own. I've done this several times already, and each time I love the recipe more and more. Instead of lining the loaf pan with foil I use parchment paper and spray it with some olive oil. I've done this with both chicken and turkey breast, as well as with beef. I also have started adding some chopped onion and red pepper into the mix, it makes a very colorful slice. Once I make the loaf I slice it up into individual pieces and put them straight into the freezer. To thaw them out I just take out the number of pieces I need and then just lightly fry them in some olive oil before serving them with a salad. My kids like them in a sandwich, but I don't have mine with bread. PS -- this must be one of the most useful recipes I've come across here at Zaar in a long time! Thanks so much!
Cut chicken into cubes.
Put the raw cubes into a food processor and pulse until it is small bits (*not mush).
Add egg whites, salt and pepper.
Add any other seasonings desired.
Line a small loaf pan with foil and oil it.
Pack meat into loaf pan.
(At this point I sometimes add fresh ground black pepper or cayenne for peppered chicken, dry rub for BBQ is also great.).
Bake in 325-350°F oven until done.
Time depends on size of loaf pan and thickness of meat.
Cool.
Refrigerate for a couple of hours before slicing (if possible).