ImPat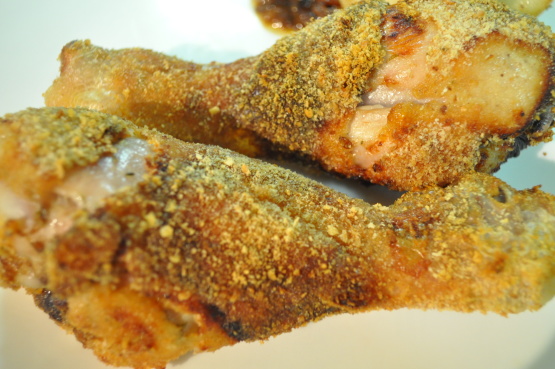 Chicken legs Coated with Infused garlic, herb, honey and lemon oil. Baked in the oven to crisp sweet tenderness.

Great recipe! For my oven, 6 chicken legs at 375 for 50 minutes is perfect. The chicken is always just right, never too dry. I added sautéed shallots with some garlic oil and it's delicious.
Infused oil

1⁄4 cup olive oil

3

garlic cloves, minced

1

tablespoon minced fresh herb (rosemary, sage and lemon savory was what I used, go for your favorites)

1

tablespoon honey
1⁄2 lemon, juice and zest

Legs

10

chicken legs, 3-4 pounds washed and towel dried
1 1⁄2 cups italian style panko breadcrumbs, if using plain do season with salt pepper and dried Italian herbs
Preheat oven to 350 degress.
Infused oil:.
in a pot simmer oil over with garlic and herbs for 5 minutes.
Add honey, lemon juice and zest to melt and blend in simmer 5 more minutes.Cool 5 minutes.
Chicken:.
Place panko crumbs in a bowl.
Lower the skin on legs.
Dip the legs into the cooled oil right into the pan putting some herbs and garlic under the skin. Bringing the skin up over the infused oil. Then roll to coat the skin.
Roll into the crumbs to coat.
Place Skin side down on a rack that has been lightly coated with a non stick spray placed on a large sheet pan.
Be sure to leave room so the heat can get to all sides.
Bake for 60 minutes.