Boomette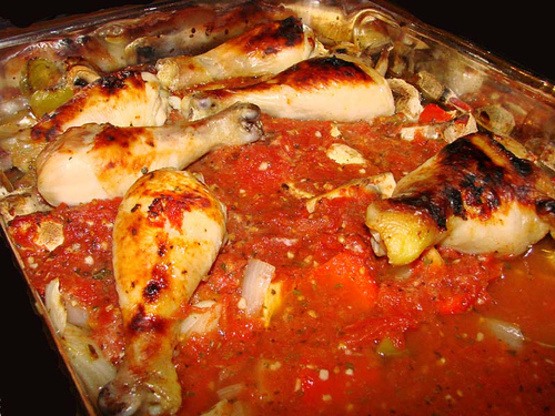 Tasty chicken pieces with chopped tomatoes and veggies. Simple to make as ingredients should already be in your cupboard. I find it easier to mix the ingredients for the sauce in a Pyrex glass measuring cup.
It smells so good while cooking. I used chicken drumsticks. Next time, I'll use skinless. Cause it was not so crispy. After the cooking time was done, the veggies were still crispy. Next time, I'll bake the veggies for about 10 minutes before adding the chicken. And 6 mushrooms were not enough, I used 1/2 lb :) I love mushrooms. Thanks CulinaryQueen. Made for photo tag game.
Preheat oven to 200C/400°F.
Rinse the chicken and remove any excess fat and skin and set aside.
Mix the ingredients for the sauce and set aside.
Mix all the chopped veggies in a roasting pan and pour the sauce over top.
Lay the chicken pieces on top of the sauce, skin side down and cover with foil.
Cook for 25 minutes.
Remove the pan from the oven, take off the foil and turn the chicken pieces over so that they are now skin side up.
Return to the oven, uncovered, and continue to cook for 20-25 minutes until chicken is done and skin is crispy.
I served this with boiled potatoes that had been thickly sliced. You may want to try this with mashed potatoes, noodles or rice.