Chicken in Tomato-Basil Cream
vrvrvr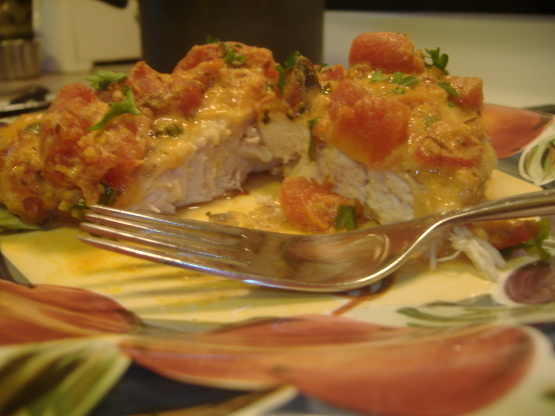 I made this for my family and they loved it. I got the recipe from Home Cookin In a Hurry. Mr. Food. Try It, you'll like it.

This came out great, but I made a few changes. I sliced chicken breasts into bite-size pieces and sauteed them in olive oil. When they were done, I added the onions and cooked until tender. Then I added the rest of the sauce ingredients. I served over angel hair.
Melt butter in large skillet over medium heat. Add onion, cook until tender.
Increase heat to high, and add diced tomatoes. Cook until liquid is almost absorbed.
Add whipping cream, and cook until slightly thickened.
Remove sauce from heat; add basil, salt, and pepper.
Preheat oven to 450 degrees. Place chicken in a 7 x 11 baking dish.
Pour sauce over chicken. Bake uncovered, at 450 degrees for 16 to 20 minute or until done.