lazyme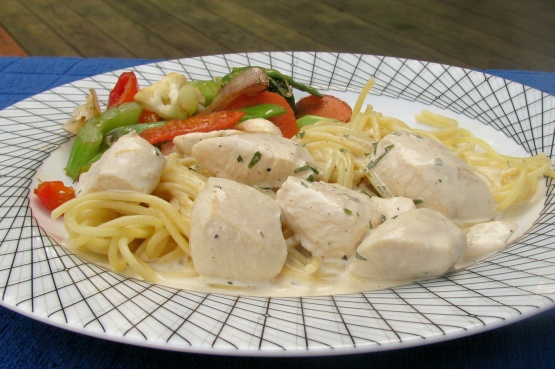 Although there are several chicken in mustard sauce recipes here on Zaar, I couldn't find one with these exact ingredients. I just love it, and the recipe makes enough sauce that you can enjoy it over noodles or rice. Although one of my favorite things is to have a nice crusty loaf of bread to sop up the sauce. From the Junior League of Phoenix.

I made this on Mothers Day evening (yep... hubby didn't cook for me). This was so very good. It is a nice change from plain ol' lemon chicken, the Dijon does wonders for it. I do have to say that I did not use the tarragon, just because I do not like the licorice flavor it gives. No matter... it turned out fabulous! I made "No Yolks" egg noodles to serve this dish over. Thank you so much for posting your recipe, I have it saved. (Made for PRMR)
Brown the chicken in the oil in a large skillet over medium-high heat for 4 minutes or until done, turning occasionally. Remove the chicken from the skillet, reserving the drippings in skillet. Set the chicken aside; keep warm.
Add the wine to the drippings; cook over high heat, deglazing pan by scraping the particles that cling to the bottom. Reduce heat to medium. Stir in the whipping cream, Dijon mustard, lemon juice, salt, pepper, tarragon and a dash or ground red pepper. Cook, uncovered, until the mixture is thick enough to cat a spoon, stirring occasionally. Add the reserved chicken. Bring to a boil; cover, and reduce the heat. Simmer for 5 minutes. Serve.