Chicken Fingers With Peanut Apricot Sauce
ImPat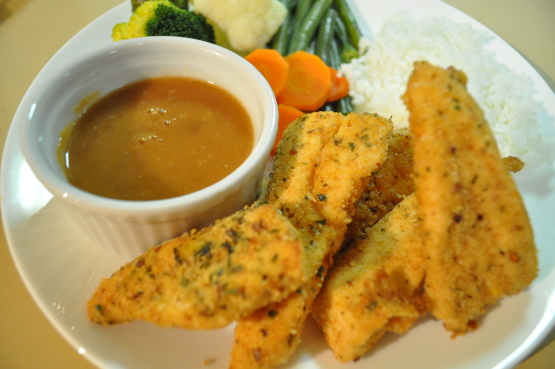 If you do not have coriander on hand you can use ½ tsp dried basil. Also, orange marmalade can be used in lieu of the apricot jam.

Top Review by ImPat
I subbed fresh oregano fromt he garden or the coriander as we don't really like the taste of coriander and with the cajun seasoning I must say it added a wonderful taste to the chicken. My 4 chicken breasts weighed just over a kilo so I doubled the crumbing mix but next time will only use 1 1/2 of the mix for 1 kilo of chicken breast, I did not add the salt though as members of the family are on low or no salt diets due to medical conditions. Now my big problem here was as much as I wanted to use the oven cook method for the chicken I knew there would be rejection so I followed my normal and gave a light fry in olive oil to seal and then popped in a low oven (125C fan forced) to finish cooking, result moist crisp chicken. I used the full quantity of the sauce which the DM and I polished off 3/4 of between us (the DH and DS had recipe #175979) but then the DM and I put some of the sauce over our rice which I served with the chicken and some steamed vegetables. Thank you Pink Diamond, made for Everyday A Holiday,
1

egg

1

tablespoon cold water

1

cup dry breadcrumbs

1

tablespoon coriander, fresh, chopped

1

teaspoon cajun seasoning
1⁄4 teaspoon salt

Peanut Apricot Sauce

1⁄4 cup apple juice
1⁄4 cup smooth peanut butter

2

tablespoons apricot jam

1

garlic clove, minced
1 1⁄2 teaspoons cider vinegar
Slice each breast lengthwise into 4 equal strips.
In shallow bowl, whisk egg with cold water.
In another shallow bowl, combine bread crumbs, coriander, Cajun seasoning and salt.
Dip chicken strips into egg mixture, then into crumb mixture to coat all over.
Arrange chicken on greased rimmed baking sheet.
Bake at 400 degrees Fahrenheit until golden and no longer pink inside, about 15 minutes.
Peanut Apricot Sauce: Meanwhile in microwaveable bowl, combine apple juice, peanut butter, jam, garlic and vinegar; cover and microwave at medium-high for 2 minutes or until blended and warm, stirring once. Serve warm with chicken strips for dipping.