Chicken Fingers - Buffalo Style
Derf2440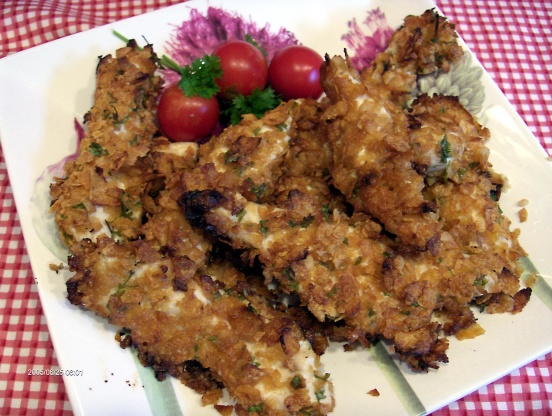 Hot! Hot! Nummy! Nummy! I made these last night, froze them and cooked 2 servings for supper tonight, to try them out. They are excellent! (with a crisp salad) (Better Homes & Gardens)

Dorothy, What a great recipe! My grandkids (ages 2-7) loved these!! They cleaned me out twice. I used Louisiana Hot sauce in place of tobasco to cut the heat a bit and used low fat blue cheese dressing. A keeper!
1

cup crushed corn flakes

1

tablespoon finely snipped parsley
1⁄4 teaspoon salt
1⁄3 cup bottled bleu cheese salad dressing

2

teaspoons water

1 -2

teaspoon bottled hot pepper sauce (Tabasco)
bottled bleu cheese salad dressing
Combine crushed corn flakes, parsley and salt in a shallow bowl or pie plate.
Cut chicken breasts into strips about 3/4 inch wide and 3 inches long.
Combine the 1/3 cup dressing, water and Tabasco in a large mixing bowl.
Add chicken, stir to coat.
Roll chicken pieces individually in crumb mixture to coat.
Place strips on foil lined baking sheet.
Freeze till firm, about 2 hours.
Place frozen strips in a freezer container.
Cover and freeze up to 1 month.
To serve, heat oven to 425°F.
Place frozen chicken strips in a single layer in a lightly greased 15x10x1 baking pan.
Bake for 18 to 20 minutes or till meat is no longer pink in centre and crumbs are golden.
Serve warm with celery sticks and additional blue cheese dressing for dipping.