lazyme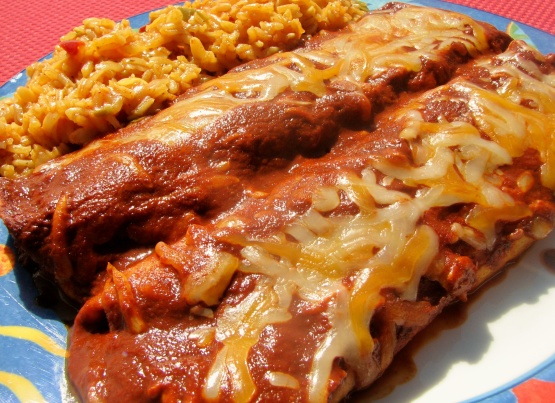 This is a recipe I came up with over 20 years ago. I made it for my Mom and the people that she worked with, I received many wonderful reviews and was asked for the recipe although at the time the recipe was not written down but in my head, here it is I hope you enjoy this as much as we do!!!

Top Review by lazyme
Wonderful! I must admit that I made these twice because of my own studpidity/carelessness. I misread the recipe (I was in a hurry) and added 2 tablespoons of chili powder instead of 2 teaspoons. Wow! Even though I really like spicy, this was a bit much even for me, lol. Once I made them correctly - they were absolutely wonderful. I have never added tequila to an enchilada mix before and can't quite describe the flavor difference - it was indeed an enhancement. I used flour tortillas, nuked them for about 8 seconds each to make them easier to roll, used a Mexican blend cheese, and totally enjoyed these. Thanks one more time Weeezer for another wonderful recipe. Made for PAC Spring 2008.
Preheat oven to 350.
In a large skillet add the oil and saute the onion and garlic over medium heat; do not brown. Add the shredded chicken, tequila, vinegar, cumin and chili powder, stirring constantly until everything is combined and heated through. Add the refried beans stirring well to combine with chicken and seasonings until heated.
To assemble use about a ¼ cup of the chicken mixture down the center of each tortilla, sprinkle with about a tablespoon or more of cheddar cheese. Roll up and place seam side down in a 9x13 pan. Repeat with remaining chicken and tortillas, until all are used up. Heat the enchilada sauce in a saucepan until hot. Pour sauce over assembled enchiladas. Top with remaining marble jack cheese and cheddar. Bake uncovered at 350 for 20-25 minutes.