Chicken & Dumplings (Or Easy Chicken Stew - Minus the Dumpli
Derf2440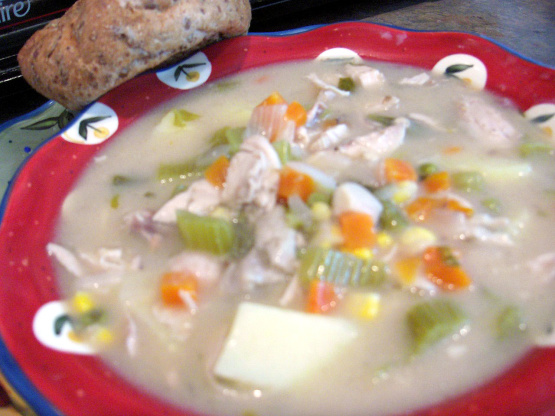 This was a easy and tastey meal. I served it with egg noodles. It went over well. from my 7 month old to my 35 yr old. (lol) ate it the next day for lunch as well. I omitted the cream of chicken, did not have it I replaced it with cream of celery. I also chaged the vegtables.. I just 1 can of mixed vegies.Instead of water I used chicken broth. It helped "up" the chcken taste since I didnt use cream of chicken. It was great! thanks a bunch!
Boil thighs (or small whole stewing chicken)in water & chicken stock until done (juice runs clear when you pierce them).
Remove chicken pieces and set aside to cool.
Add onion, celery, peas and carrots and return to the boil.
Skin, debone and cut up chicken into bite sized pieces.
Add chicken and mushroom soups, garlic, spices and chicken pieces to soup, whisk until thoroughly mixed and return to a boil.
Turn down and simmer for approx 20 minutes.
Add dumplings from Recipe #30965 (optional) and simmer for 10-15 minutes.
Serve immediately.