PaulaG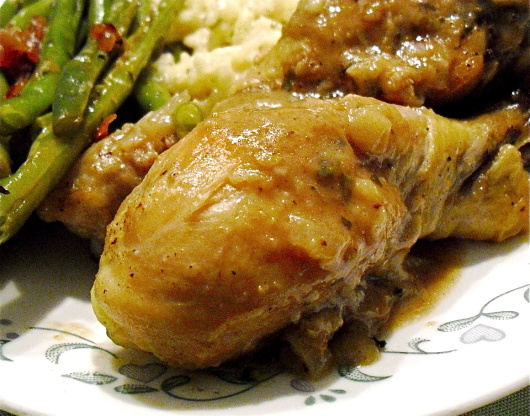 From Food & Wine, Oct 2011. I haven't tried this yet- posting for safekeeping. The author specifies drumsticks for this recipe, but I think thighs would work equally well, just adjust the cooking time slightly. Serve with crusty bread to soak up the sauce.
One thing I really love is whole grain Dijon mustard. This recipe did not disappoint. I did use large chicken thighs which I cut in half.
In a large dry skillet, toast the coriander seeds until fragrant, about 2 minutes. Let cool, then crush coarsely in a mortar with a pestle.
In the same skillet, heat the olive oil until shimmering. Season the chicken with salt and pepper, then add to the skillet and cook until brown on all sides, about 10 minutes. Add the onion and cook until softened, stirring occasionally, about 3 minutes. Add the garlic and cook for 1 minute. Add the broth and crushed coriander and bring to a boil. Cover and cook over medium low heat until the chicken is cooked through, about 15 minutes. Transfer the chicken to a platter, cover and keep warm.
In a small bowl, whisk the mustard with the creme fraiche and tarragon. Whisk this mixture into the skillet, and simmer until the sauce thickens, about 5 minutes. Return the chicken to the pan, and turn to coat.
Note: This can be made ahead and refrigerated for up to 3 days.