Chicken & Campanelle Pasta With Roasted Garlic Cream
IngridH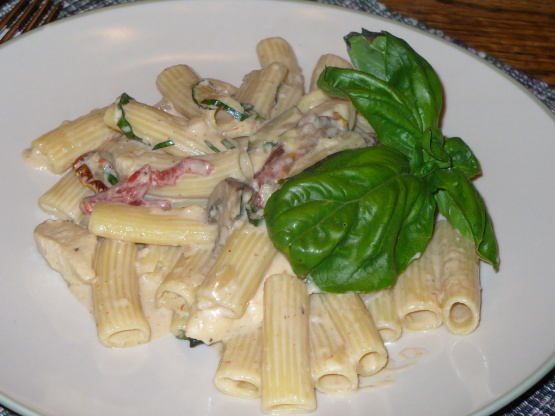 This pasta dish is superb; the Roasted Garlic Cream creates an awesome garlic sensation that is rich, smooth and velvety on your tongue. You may substitute the chicken with lobster, scallops or shrimp for an elegant dinner party entrée.

This was really yummy! I loved the smooth mellow taste of the garlic cream, and the richness of the dish as a whole. I substituted cremini mushrooms for shitakes, and added some sliced zucchini from my garden. I also suted the chicken rather than grilling it, which I think was a mistake on my part and is not reflected in the stars I gave. We felt that the dish looked very white on the plate, and that grilling the chicken would have added some color that would have made the dish as beautiful as it was yummy. We also thought that a small handfull of chopped herbs like thyme or oregano would have brightened the flavor and taken this from really good to outstanding. I will definitely make this again! Reviewed for PAC Fall '08.
Prepare the Roasted Garlic Cream recipe. (see below).
Grill the chicken or roast the breasts and dice them into bite sized pieces.
Heat the olive oil in a large skillet over medium high heat. Sauté the onion, garlic, mushrooms and chicken. When the onions are heated through, deglaze the pan with the white wine. Add the chicken stock and cream and reduce by half its volume or until the sauce is thick enough to coat a spoon.
Sir in the Roasted Garlic Cream and add the cooked pasta. Add basil and season to taste with salt and pepper.
Pour into a large serving bowl and sprinkle with the parmesan cheese and more fresh basil.
Roasted Garlic Cream: (This sauce is a garlic lover's dream! It will add incredible garlic flavor, aroma and depth to any dish. It is so versatile that it can be used on pizza! The garlic flavor is mellow not strong and the texture will be similar to that of peanut butter. It makes wicked garlic bread.).
Place the garlic in a saucepan and cover with olive oil. Heat to medium high and cook for about ten minutes until the garlic is golden brown, but not burnt.
Remove from heat and strain the olive oil into an airtight container to use in future recipes.
Put the cooked garlic into a food processor or blender.
Heat the cream in a heavy saucepan, reducing it to half of its original volume, or until the amount equals about one cup. Pour the cream into the blender with the cooked garlic and purée into a paste.