dojemi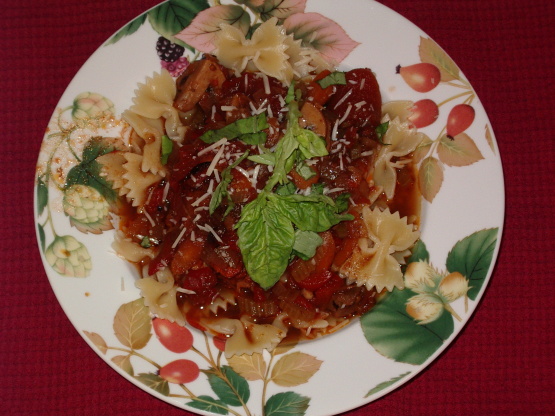 This recipe is from a local restaurant. It's their most requested dish.

Made with a bottle of 23 year old Port (skipped the basalmic) - absolutely fabulous! Used the stock & baked uncovered for the last 30 minutes. Had too much sauce to put all in with the chicken so finished the remainder on stovetop. That, combined with the leftover from the chicken pan will be used to make again but quicker. Thanks for a DELICIOUS keeper recipe!
Set the oven at 400 degrees.
In a large ovenproof dish, arrange the thighs in one layer, skinned side down.
Sprinkle with salt and pepper.
Roast the chicken for 20 minutes.
In a large skillet, heat the oil.
Cook the garlic, carrots, onions, celery, mushrooms and roasted peppers over medium heat, stirring often, for 20 minutes.
Add the stock, port, balsamic vinegar, crushed tomatoes, and bay leaf.
Pour this over the chicken thighs, cover with foil, and return the dish to the oven.
Cook the cacciatore for 1 1/2 hours.
Toss the pasta and cacciatore and transfer to a serving bowl.
Sprinkle with cheese and basil.