lazyme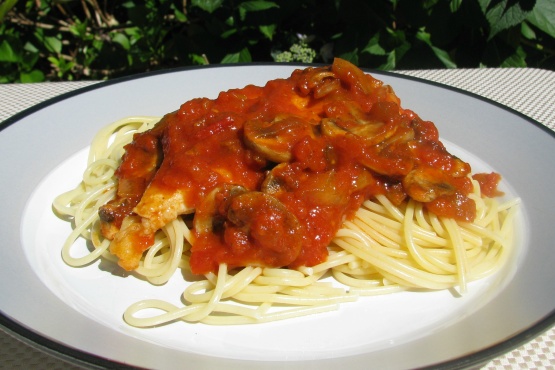 This is out of the 2002 edition of KCTS Chefs cookbook. It was sent in by Executive Chef Chris Tess from Mama Stortini's Ristorante Restaurant. I decided to make this a 2 serving dish instead of 1 based on the calorie and fat count along with the huge restaurant amounts that are normally served. My only change was cutting the 8 oz chicken breast into 2-4 oz size. The rest of the ingredients stayed the same.
Place oil, garlic, wine, chicken and onions in a pan and cook on medium heat.
When the chicken is done and the onions are caramelized, add mushrooms and simmer for 5 minutes.
Add marinara sauce.
Heat through.
Place on top of a plate of spaghetti.
Add more sauce if desired.