Chicken Breasts with Goat Cheese and Basil
Janni402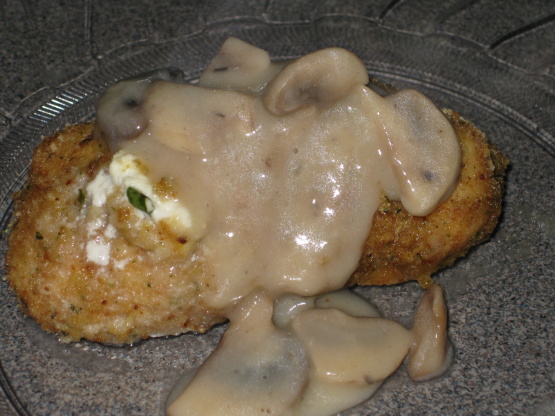 This is an exceptional recipe for otherwise boring boneless, skinless chicken breasts. Good enough for company, yet easy enough for everyday!

I made this last night and it was GREAT. Definitely a keeper. It is very similar to another recipe I use, but I liked the freshly chopped basil flavor in this one. I added about a tablespoon of finely chopped red pepper for colour, but otherwise kept the recipe the same. It not only tastes wonderful but the presentation is excellent as well and I can't wait to serve it to company.
For chicken: Preheat oven to 350°F.
Pound chicken between sheets of waxed paper to thickness of 1/4 inch using meat mallet.
Pat chicken dry.
Combine cheese, green onions and basil in small bowl.
Season with salt and pepper.
Spread cheese mixture lengthwise over half of each chicken piece.
Tuck short ends in.
Roll chicken up, starting at one long side, into tight cylinders.
Tie ends with string to secure or secure with a toothpick (my preference).
Dip chicken in egg, allowing excess to drip into bowl.
Roll in breadcrumbs, shaking off excess.
(Can be prepared 4 hours ahead. Refrigerate.) Place chicken in 8-inch square baking dish.
Pour 2 tablespoons melted butter over.
Bake until cooked through, about 30 minutes.
For sauce: Meanwhile, melt butter in heavy large skillet over medium heat.
Add mushrooms and sauté until tender, about 8 minutes.
Add flour and stir until butter and flour are smooth.
Add wine and simmer 3 minutes.
Add stock and continue simmering about 3 more minutes, stirring occasionally.
Season sauce with salt and freshly ground pepper.
Remove string from chicken.
Cut rolls crosswise into 1/2-inch-thick rounds.
Top with sauce and serve immediately.