Chicken Breast With Mustard and Sesame Sauce
teresas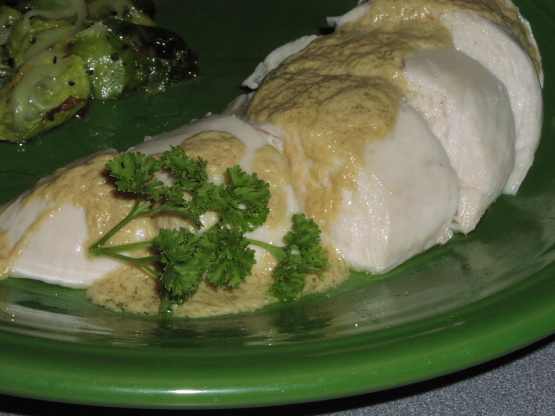 My daughter's boyfriend's mom gave her a cookbook that was created by the Houston Ballet for their Nutcracker Christmas Market in 1984. The recipes in the book were submitted by directors, choreographers, and dancers in the Houston Ballet that year. This recipe was submitted by Rachel Jonell Beard, Soloist.

Like another reviewer, I also used skinless & boneless breasts for this easy-fix recipe, but otherwise made it as written. I served this chicken with Recipe #217042 by FT & used the lovely onion-infused stock from the chicken in her recipe for an ideal dinner combo. The Dijon mustard flavor is strong here, but we both like it. As a trial, I took part of the mustard sauce & added softened cream cheese for a creamy sauce that was also good on the chicken & can be used for a more kid-friendly or less strongly mustard-flavored sauce as desired. Made for the *Pet Parade* event & thx for sharing your recipe w/us. :-)
2

whole chicken breasts

5

slices fresh gingerroot, peeled, quarter-sized
1⁄2 cup Dijon mustard
1⁄2 cup vegetable oil

1

tablespoon sesame oil
1 1⁄2 teaspoons dry sherry
Place chicken breasts in a pot in a single layer, skin-side down.
In a blender, puree the scallions and ginger with 1 cup of water. Add to pot with chicken.
Add cold water to pot to cover chicken by 1 inch.
Bring to a boil over high heat. Reduce heat to low and simmer until cooked through, about 20 minutes.
Plunge chicken into cold water to cool to room temperature. Remove the breast meat in 4 intact halves, discarding skin and bones.
Cut each breast half crosswise on the diagonal into 1/2 inch slices. Arrange 1 half-breast on each serving plate.
In a bowl, whisk together the mustard, vegetable oil sesame oil, and sherry. Spoon some of the sauce over the chicken on each plate; serve the remainder of the sauce in a dish on the side.